Shane Klintworth
Placement of the Month | April 2022
With a combination of the attributes, skills and experience found only in the best CEOs, Shane has an unflinching personal commitment to empower and support marginalised and disadvantaged people in the community.
Click the headings below to find out more about Shane, the organisation and his newly placed role as Chief Executive Officer.
About the Role

The Chief Executive Officer (CEO) reports directly to the Board and has primary responsibility for the effective leadership and management of the organisation to ensure its effectiveness and financial viability.

About the Organisation

This organisation has been working in the Gold Coast region since 1983 to ensure people from culturally and linguistically diverse backgrounds have equal access to appropriate and inclusive services, a high quality of life and independence. They are committed to working cooperatively whilst observing the principles of access and equity. Services have always been driven by the needs of the participant. Over time, services have grown and changed as expectations of government and community has – always taking the approach to work within the system.

On a growth trajectory, but not growth for growth's sake. This organisation has a professional board, strong executive team, and an organisational structure ready for continuing sustainable growth. Currently 1 year into a 4-year Strategic Plan (2021 – 2024) with a target to reach approx. $20-25M turnover, which is currently around $13.7M. Being a peak body, the board relies on the CEO to lead the advocacy and the execution of the strategic plan and take the organisation to the next level.

About Shane

A local Gold Coaster, Shane Klintworth is openly passionate about his community "and the ethnic and cultural diversity that makes it such a vibrant, rich, and amazing place to live!"

Shane has qualifications that include Perspectives in Not-for-Profit Management from Harvard University, an MBA, Graduate Diploma in Community Counselling, and a Bachelor of Applied Science – Health Education from University of Canberra. He also presents beautifully as a proven, high performing leader who brings an unusual combination of sophisticated interpersonal, technical, operational, and strategic skills. Highly reputed and with shining recommendations from his referees – including former team members – he is well capable of growing a culture built on respect, inclusion, and positive advocacy in a dynamic and ever-changing environment. And while this is impressive, the single stand-out attribute that Shane brings to every role is authenticity.

Shane grew up in a public housing estate and attended State School in Canberra. At that time, the Australian capital was a cultural melting pot. Multiculturalism was the fabric of his life. Then – as he tells it – Shane was still in Canberra about 2.5 years through his education degree when – as a student teacher – he was trying to teach Science to a group of Year 8 children. But he just wasn't getting through.

To find out why he wasn't getting through, he spent the time in the classroom talking with the kids to get to know them better. It was from their stories of poverty, home violence, language barriers, health issues, untreated disabilities and more that: "I realised the futility of me standing in front of a group of kids trying to teach the periodic table of elements when there were these primary needs that needed to be addressed." Shane said.

Then and there, he was determined to change degrees. This decisive move was to launch an extensive and successful career in the human services sector, where he has held numerous leadership roles, ranging from direct service delivery through to CEO and Senior Executive positions.

In the course of that career, Shane has led organisations through significant transformations resulting from policy driven reforms, organisational growth and in response to changes in strategy. This has included the crafting of strategy and the co-design of service models that deliver high quality, sustainable client outcomes and the delivery of culturally appropriate family support services. He has led large culturally diverse teams of staff (450) and delivered services through 1,000 volunteers in the fight against poverty, social disconnection, and homelessness.

Warm and caring, and passionate about his work, Shane is a seasoned manager. He has an outstanding history of leading culturally diverse, complex, multiprogram organisations across geographically dispersed areas. This has included state-wide in-situ and national online services.

With significant experience operating multiservice budgets and reporting to Boards and funding bodies, he's overseen the delivery of contract requirements, achieving all deliverables, within budget, on time, and in line with all statutory and regulatory requirements.

Known as an inspirational leader of rare calibre, Shane has shown many times that he has the knack of harnessing the passion, capability, and potential of teams to deliver innovative, sustainable, and high impact client outcomes.

In addition to his relentless drive for excellence, Shane's leadership style is inclusive, respectful, and humble. And that is well documented. Testimonials attest to a philosophy where he has "sought to leverage the collective wisdom within my team when crafting enduring and sustainable solutions to challenging problems". His secret is simple: team members like and trust Shane so they work hard to deliver what he expects of them.

Shane's achievements are multiple, proven, and impressive. But, in addition to his ability to "live" authenticity, a theme that runs through all his career appointments is the ability to communicate effectively across a range of issues and to a broad audience. He writes beautifully; can converse with anyone, is a skilled negotiator and advocate, and has impressive interpersonal skills complemented by self-awareness, curiosity, conviction, humility, warmth, and a good sense of humour.

Shane works collaboratively with clients, peers, and stake holders to fully understand the service response that will deliver excellence in customer service. And we're assured that the result of this approach is a measurably higher (than usual) level of stakeholder satisfaction, increased levels of client agency, staff engagement and organisational effectiveness. With a combination of the attributes, skills and experience found only in the best CEO's, Shane has an unflinching personal commitment to empower and support marginalised and disadvantaged people in the community. His unique value proposition is embedded in a distinctive combination of leadership style, breadth of experience and a client focussed, outcome driven, and compassionate approach that made him the ideal candidate for this role and the organisation.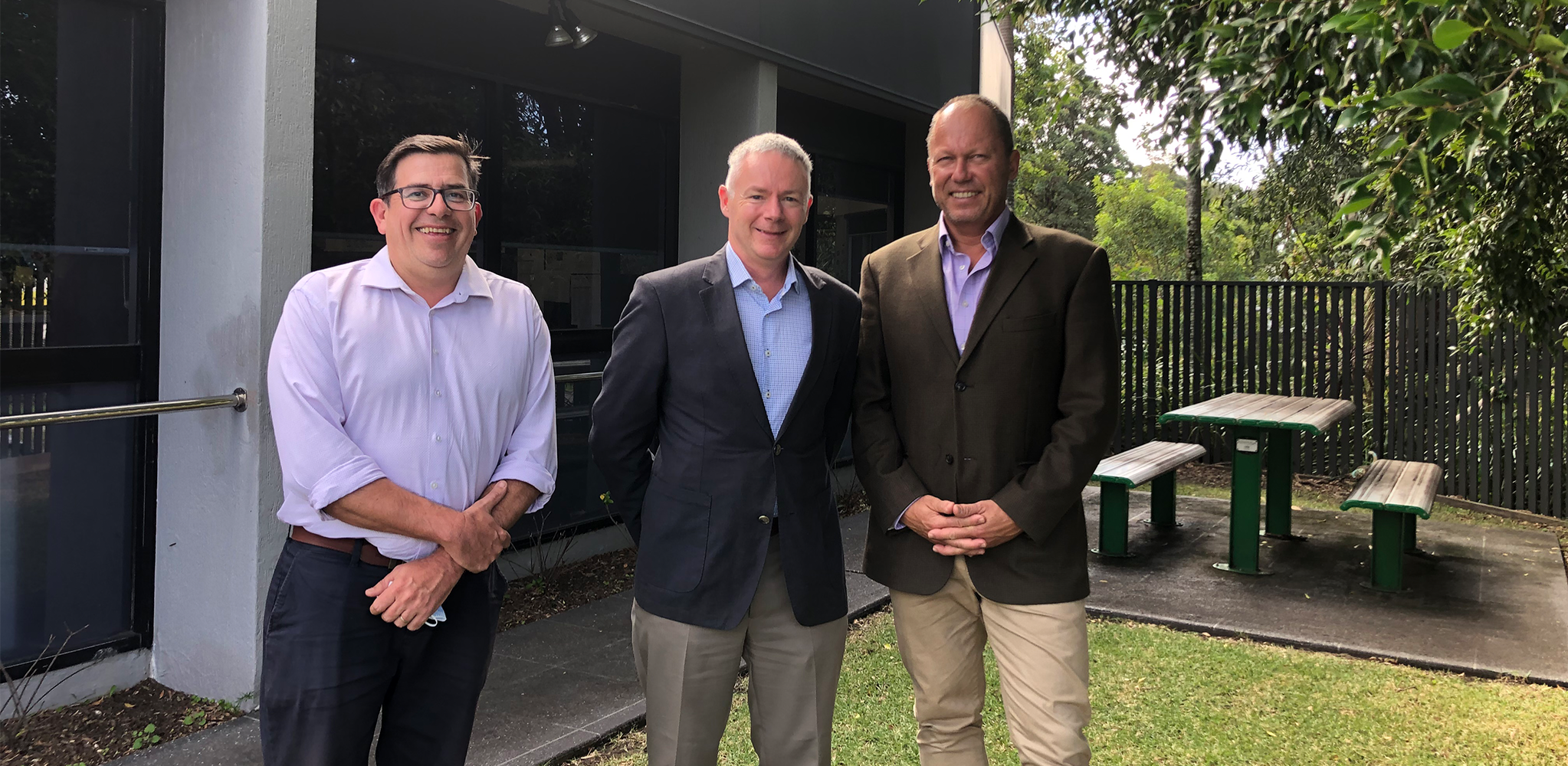 Photo from Left: Adam Oakhill, Mike Conroy and Shane Klintworth
Looking for premier candidates to join your organisation?
Speak with our consultants today!